We see it all the time, small business owners don't realize how important their online reputation is until someone or several people give them negative reviews. If you don't manage your online reputation, someone else will and you might not like how they are doing it.
Usually business owners don't even see the review until someone else mentions it too them, but at that point the damage has been. I get phone calls all the time from business owners asking for help in responding to negative reviews. They feel vulnerable and realize they have little or no control about what people say about their business. The online world is a new and different world for many small businesses owners.
There are three types of responses we typically see from business owners, Denial, Defensive or Destroy. I'll cover these three response types later in this blog post, but all three are not the way you want to respond to negative reviews.
Why You Need to Manage Your Online Reputation
The big question is understanding WHY it's important to manage your online reputation for your business. The short answer is everyone is researching companies online before making a buying decision. It's easy, fast and very informative.
92 percent of people trust recommendations from friends and family above all other forms of advertising when making a buying decision.

31 percent of consumers say they check an online review before making a buying decision and that number is growing exponentially (175% year over year).
Online review sites like Yelp, Google My Business (GMB), Bing local, and Yahoo Local are increasing in popularity everyday and more and more people depend on these sites more than ever.  Yelp get's over 178 million unique monthly visitors, and almost a million reviews per month.
The good reviews outweigh the bad (66% Good | 4 stars or higher) and restaurants seem to have the most at stake on these review sites accounting for about 26% of all reviews with shopping a close second with 24%.
One of the biggest reasons for the growth is that 97% who bought something based on an online review found it accurate, so people are trusting these site even more, and now with smartphones being so widely used and apps that are geo-location sensitive, its making looking up reviews easier and easier.
The Wrong Way to Respond to Negative Reviews
Small businesses are desperately trying to figure out how protect their reputation. Some are even turning to fraudulent means to bolster reviews and sites like Yelp are answer back by flagging businesses that are caught red-handed with a "consumer alert" status and posting screenshots of infractions.
From our perspective here at Everzocial, we feel the key to successfully protecting one's online reputation, whether personal or business, is proactive, consistent and always be positive.  Small business owners are too close to the reason for the negative review that they typically go into "Denial" and just ignore those reviews that they don't agree, telling themselves that people will see through the negative review and in the end they take no action in responding to the negative review.
The second type of response is the "Defensive Response", the take an action by responding but take on a defensive tone, which never works to the advantage of the business. The third type of response is the "Destroy" approach. The business owner or employee respond by attacking the reviewer and their reputation, this approach is even more damaging to the business than the actual negative review. Here's an example on how not to respond.
Example of how NOT to respond to a negative review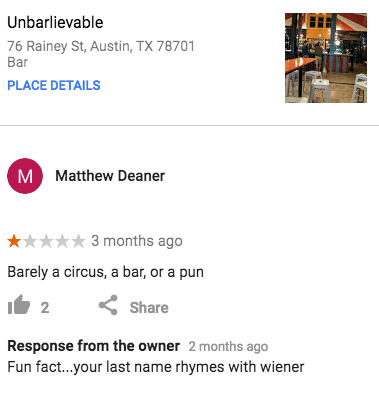 The Everzocial Approach
At Everzocial we have a developed a unique approach to responding to all reviews and how to respond effectively. We have a great track record of not only responding to negative reviews in a timely, professional way.  Many reviewers end up updating their reviews and increasing the star rating on average by .85 of a star, which can have a huge impact on an overall score.
A recent study claims that a 1 star rating increase can increase sales by 9%, that is pretty significant. Many consumers are less confrontational and more responsive to see their interactions when dealing with third-party representative of a brand or small business. We love teaching our methods and tactics to small business owners in seminars and webinars, but many see how much time and effort they would have to put in and in the end choose to hand over the reigns of their reputation management to someone who can do it all day everyday, cost effectively.
There really is only two choices out their for small businesses when it comes to managing their online reputation. To do it or not to do it, but in the end everyone does it. If you damage your reputation enough you will pay for it in the end and it will be more expensive than to take a proactive approach. Look at it like business insurance, it's essential and you wouldn't put your business at risk.
Companies that can "fix" or buy a brand's online reputation use scripted reviews on popular websites to boost awareness. Pricing can range from $5,000-$10,000 over the course of 6 months, where as a proactive reputation management program will end up costing about $5,000 a year.
To learn more about the Everzocial approach to reputation management please schedule a call with one of our reputation management specialists.